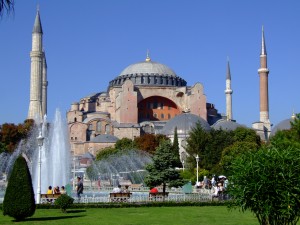 I just came across an article on AsiaNews that's disturbing to me: "Persistent rumors suggest Hagia Sophia will be turned into a mosque" (Aug 30 2013). It confirmed my worst fears that one of the greatest churches in world –after the 4 central basilicas in Rome, a few others– may be returned to the Muslims for worship.
Hagia Sophia (Holy Wisdom) was built as a Christian church, known as the great church, in 537. And, it was the seat of the Patriarch of Constantinople until the Ottomans oppressed the Christians.
In 1453, Hagia Sophia along with other Christian churches, were confiscated and turned into mosques.  When Mustafa Atatürk, in 1923, founded the secular state of Turkey,Hagia Sophia mosque became a museum.
From the Muslim side, the Hagia Sophia is a symbol of Islamic conquest of Christianity and it's in their best interest to reassert themselves by taking the museum back as a place of muslim worship. If the rumors are true, this building will be a central symbol of the caliphate that is expected to formed.
Disclaimer: I want the former cathedral returned to the Christians. The church ought to be a Christian temple. I advocate the praying of the Divine Liturgy of Saint John Chrysostom at what would be the central altar. If not, then I will concede Patriarch Bartholomew's view: Hagia Sophia to remain a museum.
Some people report that in 2006 a small room was made available to the staff of the museum for Christian or Muslin prayer. In 2013, the minarets ring out the call for Islamic prayer. The camel's nose is creeping.
God help us.