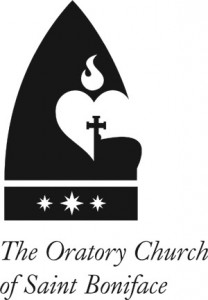 Saint Philip Neri and his ability to connect with the common person is seen in the ministry of his sons at the Oratory of Saint Boniface in Brooklyn, NY. Saint Philip's charism is alive and bringing Jesus the people and people to Jesus.
The Oratorians took a dead parish community and by cooperating with Grace revitalized the parish making it a place of prayer now called the The Oratory Church of Saint Boniface. They've renovated their church, provide an excellent sacred music ministry, an intellectual outreach as well as a myriad of ways of responding to the needs of those in need.
In a real way these urban and contemporary religious men are making being Catholic interesting, and dare I say, captivating, by making what the 16th century layman-turn-priest and saint said and did. very concrete. The Oratorian priests and brothers  are a different type of religious congregation say from the Benedictines, Jesuits and Dominicans. The men live permanently in one place, take no religious vows yet they promise to live in charity with each other serving in whatever need is identified: parish work, spiritual ministries, work with the poor and marginalized, teaching catechism and the like. The Provost is the religious superior of the local group –the point of unity– and the diocesan bishop gives the priestly faculties. Mutual obedience, concern for one another and joy are hallmarks of the Oratorian life. Each Oratorian is respected for his relationship with the Lord and the gift of self to the Church. Neri was an evangelizer, and so are his sons.
NET TV –a media ministry of the Brooklyn Diocese– interviewed the Fathers and Brothers of the Oratory  recently giving an insight into their life and work among the people of God.
Visit The Brooklyn Oratory.