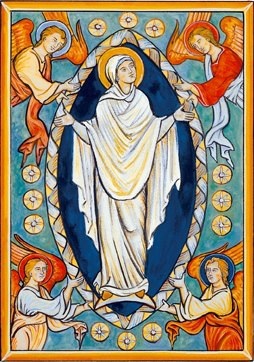 "those He justified, He also glorified" (Rom
8:30)
Almighty ever-living God, who assumed the Immaculate Virgin Mary, the Mother of your Son, body and soul into heavenly glory, grant we pray, that always attentive to the things that are above, we may merit to be sharers of her glory.
What was given to Mary, is offered to us: to share in the glory of the Most Holy Trinity. Unlike the Gaga song of "being on the edge of glory," we Christians are offered the possibility of being in the center of glory. But do we believe it?
Eastern and Western Christians observe on the same day the glorious move
of Mary from this world to the next. The Eastern Christians call today's feast
the "Dormition," the falling asleep of the Theotokos and the assumption to
heaven. In the West, we refer to this feast as the Assumption. That Mary,
without decay of the human, was called to heaven body and soul, by God.