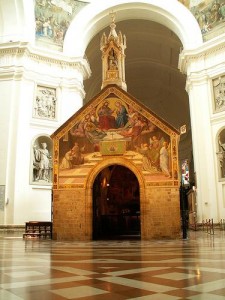 Today the Church observes a Franciscan feast of Our Lady of the Angels on which the "Portiuncula" Indulgence is offered. You may not be encountering this feast in a lot of places, but it is very worth knowing. You can also read last year's post on this feast.
As you know from the personal history Poverello, he repaired three chapels, the last of which is typically called the Portiuncula or the Little Portion, dedicated to Our Lady of the Angels. The chapel now exists within the larger basilica church as seen in the picture. It is here that Franciscans identify their spiritual home. Moreover, it's here that Saint Clare professed her vows on Palm Sunday in 1212 and where Francis died on October 3, 1226.
The Franciscan tradition tells us that Our Lord accompanied by Our Lady appeared in 1216 Francis who was encouraged to requested from Pope Honorius III to grant an indulgence to all who visited the Portiuncula chapel. Later popes expanded the indulgence to include churches administered by the Friars, and now the indulgence is offered to anyone who fulfills the obligations (see below) in any church.
The usual conditions to receive a gift of a plenary indulgence:
detachment from sin:  a true sorrow for, and repudiation of, all one's sin, mortal and venial;
sacramental confession within a week of the feast;
reception of Holy Communion on the day the indulgence is sought;
prayer for the intentions of the Holy Father (see the blog entry on August 1 for the intentions) on the day the indulgence is sought (recitation of the creed, 1 Our Father, 1 Hail Mary suffice, or any other suitable prayer).
If these conditions are not met, the indulgence will be partial.