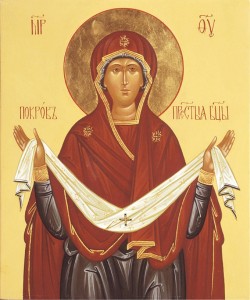 We have a busy liturgical day. The feast of Saint Thérèse of Lisieux (the Little Flower) and the Slavic Byzantine Church honors Mary under the title the "Protection of the Theotokos." AND we need her protection!!!
This medieval prose (i.e.,  a devotional poem for use in the liturgy) uses the sentiment of the "Ave Maria."
Hail Mary, full of grace,
the Lord is with you, serene Virgin.
For lowly and great,
lion and lamb,
our savior Christ:
you have been his temple,
while still a virgin.
For the flower and rose,
the bread and the shepherd:
you queen of virgins,
a rose without a thorn,
you became their mother.
You are the royal seat of justice,
you are the mother of mercy,
from out of the depths of dregs and misery
hast seen Theophilus to grace.
The heavenly court praises you,
you the king's mother and daughter;
O sweetest Mary,
through you the accused is forgiven.
O most pious Mary,
through you the accused is forgiven.
O most gentle Mary,
through you favor comes to the just.
For us always entreat Christ. Amen.