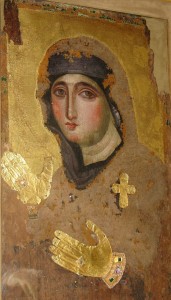 This icon is of the rare Byzantine icon of Agiosoritissa (Mother of God) of the 7th century. It is said to be one of the few Byzantine icons that survived from the iconoclast era. The icon is said to have been in the Agia Soros chapel in Constantinople (hence the name in the title).
Indeed, a terrific gift to receive. The historicity of this beloved icon of the Virgin emboldens faith and lends credence to coherence of Christianity in time.
The provenance is Constantinople located now at the Church of Santa Maria del Rosario a Monte, Mario, Rome. Dimension 42.5 x 71.5 cm.
Mary, Mother of God, pray for us.