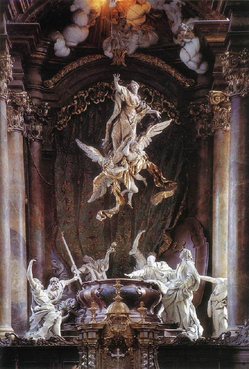 Mary helps us,
she encourages us to ensure that every moment of our life is a step forward on
this exodus, on this journey toward God. May she help us in this way to make
the reality of heaven, God's greatness, also present in the life of our world.
Is this not basically the paschal dynamism of the human being, of every person
who wants to become heavenly, perfectly happy, by virtue of Christ's
Resurrection? And might this not be the beginning and anticipation of a
movement that involves every human being and the entire cosmos? She, from whom
God took his flesh and whose soul was pierced by a sword on Calvary, was
associated first and uniquely in the mystery of this transformation for which
we, also often pierced by the sword of suffering in this world, are all
striving.
Pope Benedict XVI, Homily on the Solemnity of the Assumption of the BVM, August 15, 2008