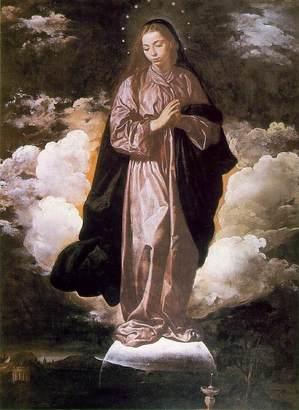 Lord our God, as we celebrate Mary, daughter of Zion and figure of the new Jerusalem that descends from heaven, we await the coming of your Son Jesus Christ in glory. Hasten the day of his coming, and all the nations, together with all of Israel, will find salvation in your eternal kingdom. We ask you this through the Holy Spirit, who consoles us and intercedes for us now and forever.
Today's feast of the Immaculate Conception of the Blessed Virgin Mary ought to be interpreted on the basis of sacred Scripture (Zeph 3:14-18a; Gal 4:4-7; Lk 1:39-55), sacred Tradition and the Magisterium. This feast is best understood from the point of view of the eschatological context of Advent which focuses our attention essentially on the coming of the Lord at the end of time. Consider what the prayer above notes. Christians, remember, live in the end times now.
Mary's conception (through her parents Anne and Joachim) celebrated in the liturgical season of Advent is a fitting time in which we long, really desire, the Lord's coming. Our waiting for the Messiah, now for the second time, is a true hope of all hopes.
The Church in the Eastern Roman Empire, known as Byzantium, has observed this feast with great interest before it reached the Western Empire by the 10th century. In the East today is also called the Conception of Saint Anne.  If you recall, the Franciscan and Doctor of the Church Saint Bonaventure has a clear teaching on the Immaculate Conception of Mary, defended and promoted by other Franciscan theologians and made part of Catholic dogma in 1854.
The precise Catholic theological teaching of the Immaculate Conception is not shared by some Protestant ecclesial communities and the Orthodox Churches. "For them, Mary's conception has the value of a sign: through the divine intervention that was needed to heal Anne of her infertility, all of humanity has been healed of its sterility, brought on by sin, and has become the womb capable of welcoming the Word's Incarnation. It is the Lord himself who, in his infinite mercy, prepares the way for his decisive intervention in history." In many ways there is not that much difference in substance but acknowledged nonetheless here.
Under the title of the Immaculate Conception, Mary is the patroness of the United States of America.