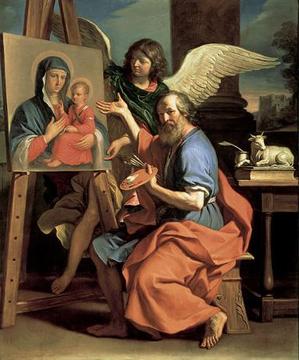 During the 50 days of Easter the three-times prayed Marian antiphon, the Angelus, changes to the Regina Coeli. Like the Angelus, it is prayed morning, noon and night. Some people only pray it following Night Prayer (Compline); yet the greater tradition is to pray the Regina Coeli many times a day as a way of remembering (recall the Church's example of being aware of Christ and His being with us, and what Pope Francis said about remembering yesterday in his Easter homily: we remember the events of Jesus life, death, and resurrection as a gift)! Hence, the Regina Coeli…
Several pious legends swirl around. One is that Pope Saint Gregory had a vision in which he heard the lines of the prayer that became known as the Regina Coeli connected with Saint Luke painting the image of the Blessed Virgin Mary. In reality, the Franciscans made the prayer popular when the concluded Compline during Easter with it. It is the custom of Catholics, since the 12th century, to pray with Mary, the Holy Theotokos (Mother of God), from Easter Day through Pentecost, the seventh Sunday after Easter.
Queen of Heaven
V. Queen of Heaven, rejoice, alleluia.
R. For He whom you did merit to bear, alleluia.