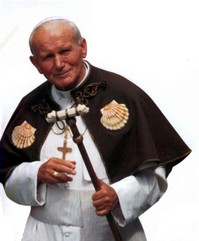 Another door to Pope John Paul's beatification happened yesterday in Rome. The cardinals and bishops who are members of the Congregation of Saints have affirmed the veracity of the medical investigations of a miracle of attributed to the Venerable Servant of God Pope John Paul II, and the theological report on the same. Andrea Tornielli writes about the news.
Sister Marie Simon-Pierre, who suffered the effects of Parkinson's Disease, makes the claim of healing through the intercession of John Paul who also suffered from the same.
Speculation is that Benedict will assign the liturgical memorial for John Paul to a date in October so that his April 2nd date of death and liturgical observance doesn't conflict with Holy Week. Often the date of death is the feast day though not exclusively as we know of the recent case of Blessed John Henry Newman.