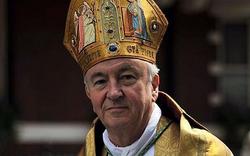 Many ordinations
have taken place in this Cathedral during the 100 years of its history. But
none quite like this. Today is a unique occasion marking a new step in the life
and history of the Catholic Church. This morning the establishment of the first
Personal Ordinariate under the provision of the Apostolic Constitution
'Anglicanorum Coetibus' has been announced in our hearing. So I too salute John
Broadhurst, Andrew Burnham and Keith Newton who are to be the first priests of
the Ordinariate of Our Lady of Walsingham. In particular I offer my prayers and
best wishes to Keith, chosen by the Holy Father to be its first Ordinary.