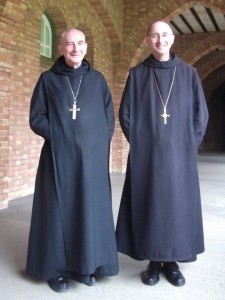 Great news from Quarr Abbey! A new abbot has been elected. The Abbey is part of the Solesmes Congregation.
Dom Xavier Perrin has been elected as Abbot of Quarr Abbey, the Benedictine Abbey on the Isle of Wight. The election took place on Wednesday, May 11, 2016.
Fr Xavier Perrin, born in Tours in 1958, first studied French Literature in Rennes, and then History of Art at the Sorbonne. In 1980, he entered the Abbey of Sainte Anne de Kergonan, a monastery founded by Solesmes in South Brittany in 1897. He studied theology first at Solesmes, then at Fribourg in Switzerland, and finally in Munich. After his ordination in 1989, he took charge of the guesthouse, while teaching dogmatic theology and playing the organ. He was novice master from 1993 to 2010, choir master from 1996 to 2013, and prior from 2002 to 2013. He has written books and articles about the history of the Solesmes Congregation, liturgy, and spirituality. He has been involved in the promotion of Gregorian Chant through several week-ends, concerts and CDs. He was appointed Prior Administrator of Quarr Abbey (Isle of Wight) in April 2013.
He said, "I entrust my abbatial ministry to Our Lady of Quarr. I hope and pray that Quarr can continue to give its unique contribution to the Catholic Church in Britain, and be a beacon of light for the many visitors to the Isle of Wight."
The picture: Abbot Xavier (on the right) standing next to Abbot Philippe Dupont, Abbot President of the Solesmes Congregation.