On 20 September 2008, Pope Benedict XVI met with the Benedictine abbots and abbesses at Castel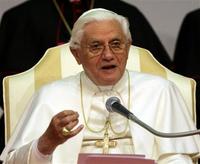 Gandolfo, his summer residence.
The Pope's address in Italian is found here while we wait for the English translation. The Zenit summary is here.
The Catholic News Agency makes this report.
Vatican Radio posted this story.
In part the Pope Benedict said: the witness of the Benedictine monks, nuns and sisters is particularly important  "in a de-sacralized world and an age marked by the worrying culture of the void and the absurd. This is the reason why your monasteries are places where men and women, also in our age, run to seek God and to learn to recognize the signs of the presence of Christ, of his charity and of his mercy."
The Pope asked the Benedictines to "allow themselves to be led by the profound desire to serve all men with charity, without distinctions of race or religion," and to found new monasteries "where Providence calls you to establish them."
The Pope focused the attention of the Benedictine superiors to the work of evangelization and to formative and cultural work that can be done particularly in Europe, "especially in favor of the new generations. Dedicate yourselves to young people with renewed apostolic ardor, as they are the future of the Church and of humanity. To build a 'new' Europe, it is necessary to begin with the new generations, offering them the possibility to profoundly approach the spiritual riches of the liturgy, of meditation and of lectio divina." [While the pope has Europe on his mind he would also support this building up of Catholic culture in the new world, too.]
The abbots are in Rome at an international congress held every 4 years.