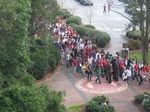 On the 5th Sunday of Lent (March 29) the Charlotte diocese co-sponsored with Belmont Abbey & College the 3rd annual Eucharistic Congress for Youth. The gathering included a procession with the Eucharist around the campus, inspirational and formative talks, the sacrament of Confession, Vespers and Benediction. Bishop Peter Jugis, Abbot Placid, Dom Kieran and Dom Edward, among other monks and religious, including 2 Capuchin friars, assisted in giving a witness to the exceptional and powerful Presence of the Lord with more than 450 students from the college and across the diocese.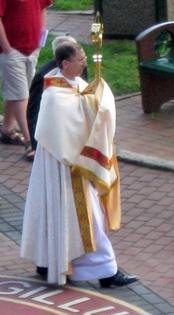 This terrific Eucharistic event strengthened and gave hope to the many participants. Plus, it was a spectacular sunny day. It was a keen reminder that all of life is viewed through the lens of the Eucharist.
The gaze of the Eucharistic Lord on us and us on Him is a beautiful gesture of mercy.
Read the story here.