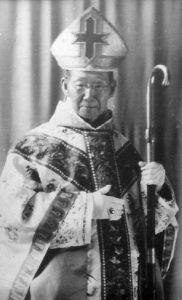 The last pre-communist prime ministers of China, Lou Tseng-Tsiang (12 June 1871 – 15 January 1949) a robust thinker, diplomat, spiritual and religious man converted to the Catholic faith from Protestantism and became a Benedictine monk, and lived with the hope of bringing a robust Catholic life to China.
The early life of Lou Tseng-Tsiang was spent as a domestic and international diplomat having achieved proficiency in French and Russian. Following the death of his wife, Berthe Bovy, he retired; in 1927 became a postulant at the Benedictine Abbey of Sant Andre (Bruges, Belgium) taking the name Dom Pierre-Célestin; he was ordained priest in 1935.
Pope Pius XII honored Dom Pierre-Célestin in August of 1946 by bestowing on him the honor of being the titular abbot of the Abbey of St. Peter, Ghent. In 1945, Abbot Pierre-Célestin published his memoirs, Souvenirs et pensées.
A fine introduction by Frank Weathers can be found here.
Dom Pierre-Célestin himself wrote about his faith journey in these words: "My conversion is a vocation. God led me, and He called upon me. My task for myself has, then, been extremely simple. It was enough for me to recognize what I saw, what events and circumstances, and the grace of God plainly showed me, and, to this constant and clear vocation, to respond by fulfilling the first duty of conscience, which is to obey God."