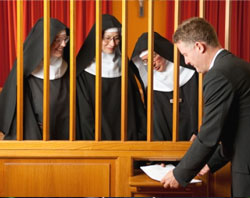 The Benedictine nuns of the French abbey of Our Lady of the Annunciation of Le Barroux (near the famed Avignon) landed a music contract with Universal Music. This is the same label as Lady Gaga and Elton John.
I doubt Lady Abbess will be consulting with Lady Gaga on the record details. BUT do you think they might take a clue from the Erie Benedictines performing "kum bay ya"
on the Ed Sullivan Show
?