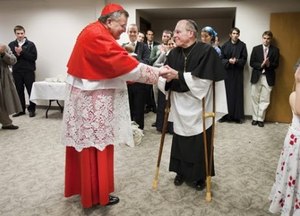 Today, the monks of Saint Louis Abbey elected for the third time, Abbot Thomas Frerking.
Abbot Thomas, 69, was first elected in 1995; he will serve for an 8-year term. The abbots of the English Benedictine Congregation have term limits: you can be elected indefinitely for 8 years each terms.
Abbot Thomas is a St Louis native. Harvard and Oxford University educated, Frerking studied Philosophy; he's also a Rhodes Scholar. The Abbot is a noted Thomist.
May God grant, through the intercession of Saints Benedict, Scholastica and all the Benedictine saints and blesseds, the graces needed to lead the monastic community of Saint Louis Abbey.