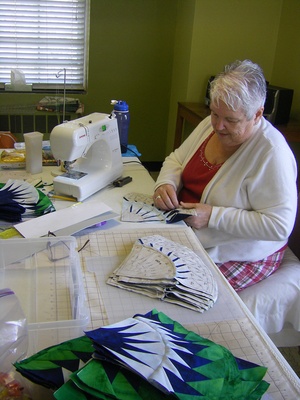 Benedictine abbeys are places where the culture of prayer, study, charitable work and arts and crafts can breathe with ease. That's the genius of Saint Benedict and the leadership of monasticism through 1500 years. Few religious orders have such an expansive sense of culture as the Benedictines (or share in across the world). Art aids one in his or seeking God and a better sense of self.
The monks of
Saint Benedict's Abbey
, a monastery of monks in the Swiss-American tradition just outside Milwaukee and an hour's drive from O'Hare Airport, have a retreat house where individuals and groups come to pray, study and rest in the Lord.
The arts have had a significant, yet humble place in Benedictine life. Making art is one way to bring together a deeper level of fraternity, balance and healing in the distracted world. Some Benedictines are musicians, others are scholars, weavers, quilters, calligraphers gardeners, beer makers, vestment makers, organists and horn players, others are apiarists and the so on. In his Rule for Monasteries, Saint Benedict's 57th chapter "On the Artisans of the Monastery" fosters a spirit of human expression that has limits based on virtue as yet another but crucial way to glorify God. Benedict says,