On Saturday I drove up to the Abbey of Regina Laudis situated in Bethlehem, Connecticut, to purchase cheese and note cards made by the Benedictine nuns there. Cheese is a homemade product of the nuns of this monastery made from milk of 5 dairy cows. But in addition to cheese and note cards I picked up a beautiful DVD interviewing Mother Dolores Hart, OSB. In 2000, Chantal Westerman interviewed Mother Dolores for an hour long presentation called "Conversations with Remarkable People: Mother Dolores Hart."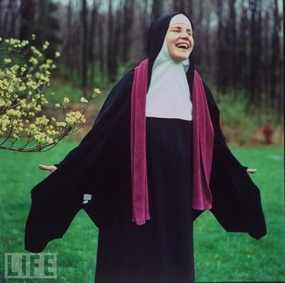 From this conversation I learned a few things and a new perspective among which Mother Dolores was not only an actress but also a carpenter who made chairs and tables but also coffins for the nuns in her earlier life at the abbey and she took the time to welcome guests. Patricia Neal was of particular interest. (A convert to Catholic before her death, Neal died in August 2010 and is buried at Regina Laudis Abbey.) Of particular interest to me was not Hart's work in Hollywood but her concrete witness of Christian faith. Ms Westerman asked Mother how she understood faith and the phrase "I am spiritual but not religious." Mother answered (my notes):
Faith is remembering the exquisite gifts of God given us in particulars of space and time and people; faith is having the guts to say 'yes' when you have no idea what the 'yes' means; the 'yes' is given in response to a mystery.

With regard to the spiritual/religious distinction often made: the two are complementary and have a convergence.
Indeed! There is no separation between spiritual and religious. The soul needs integration of each to make any real sense.
If you can get a copy of the DVD from the Abbey, do so. I recommend it. And stay for Vespers (the Church's evening prayer) daily beautifully sung by the 40 nuns.
You may be interested in other blog posts on Regins Laudis and Mother Dolores Hart
found here
.