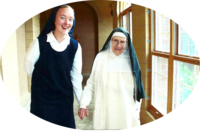 I was reminded earlier today of a need to pray for vocations to the contemplative life. A former colleague of mine recently entered Dominican life as a cloistered nun at Saint Dominic's Monastery in Linden, VA. It is a traditional monastery of nuns, a very young of women who make a sacrifice to pray for us and the needs of the world. The postulant, Sister Lauren (left) is seen with a veteran nun, Sister Mary Dominic.
Pray for vocations.
As an aside, the Huffington Post had this special article with pictures of those who
"thought" they had a vocation
. One actually did pursue a vocation as a Benedictine nun at Regina Laudis Abbey (Bethlehem, CT), Mother Dolores Hart.