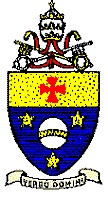 lYou're likely going to say big deal… there's already been too much info on the 2012 Congress of Abbots on the Communio blog. Well, you're correct. But a few statistics set a context.
250 abbots
380 monasteries represented: 205 abbeys, 45 independent priories, 130 dependent priories
21 Benedictine Congregations of monks
7,358 monks represented
62 Benedictine Congregations of women
13,650 Benedictine nuns and sisters represented.
Father Luke MacNamara OSB, a monk of Glenstal Abbey (Ireland) oversaw the simultaneous translation work of 5 languages.