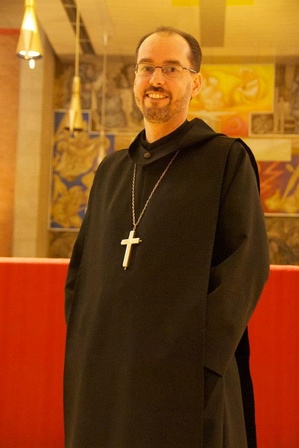 The monastic chapter of Saint Benedict's Abbey (Atchison, KS) elected Father James Robert Albers, 41 as the 9th abbot earlier today. Until now, he's served the monastic community as the Prior and vocation director.
Abbot James was born 19 October 1971, entered the abbey in 1996 and ordained in 2000.
The Benedictine community here was founded in 1857; it was given the rank of an abbey on 7 April 1876. Saint Benedict's Abbey administers
Benedictine College
(1858), Maur Hill Prep School (1919); in 2003 the Prep merged with Mount Scholastica Academy (1863) to build a more dynamic and stronger school known as
Maur Hill-Mount Academy
. Saint Benedict's Abbey is a member of the American Casinesse Congregation.
The monks also have a dependent Mosteiro São José in Goiás, Brazil.
The newly elected Abbot James succeeds Abbot Barnabas Senecal who was elected 8th abbot on 30 May 1994 and re-elected on 27 December 2002.
Forward, always forward.
May Our Lady of Guadalupe, Saint Benedict, Saint Scholastica with all Benedictine saints pray for the abbey and for Abbot James before the Throne of Grace.