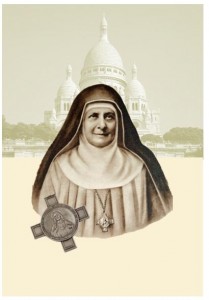 On the Communio blog I love to portray the witnesses of holiness, those canonized and beatified already, and those in process. One such person in process for study is the Benedictine nun Mother Marie-Adèle Garnier (1838-1924), the foundress of the Adorers of the Sacred Heart of Jesus.  In the monastery Garnier was known as Mother Mary of St. Peter. The aim of this Benedictine Congregation is to glorify the Most Blessed Trinity. Today is the anniversary of her transitus.
Mother Marie-Adèle's cause has been introduced for study about a possible canonization. Blessed Columba Marmion wrote to one of her spiritual daughters, saying, "The special characteristic of your Mother is heroic confidence in the midst of impossibilities." With this in mind, let us together pray for this favor.
Father, all powerful and ever living God, we give you glory, praise and thanks for the life and virtue of your beloved daughter, Marie-Adèle Garnier.
Filled with the riches of your grace and preferring mother to the love of the Heart of Jesus Christ, she devoted her whole life to the adoration, praise and glory of your Name; she sacrificed herself by prayer and penance for the unity and holiness of your Church; she loved her neighbor with a charity full of humility and compassion.
Above all, she found the Sun of her life in the Holy Mass, and so was consumed with zeal for liturgical worship and Eucharistic adoration, and abandoned herself with all her heart to your most Holy Will in all things.
In your mercy Lord, hearken to our prayer: "Glorify Your Servant, Mother Marie-Adèle Garnier, that Your Servant may glorify you."
We ask this through Our Lord Jesus Christ, Your Son, Who lives and reigns with You, in the unity of the Holy Spirit, One God, world without end. Amen.