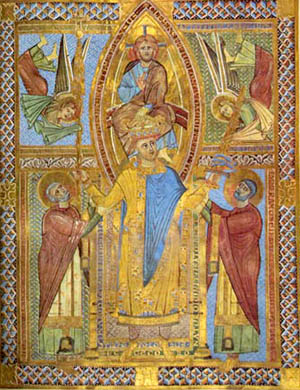 The Church recalls the witness of an emperor and a Benedictine Oblate, Saint Henry (972-1024), Duke of Bavaria. Henry was crowned king in Rome by Pope Benedict VIII in 1014. It is said that Henry was assisted by the saints throughout his life but especially at Mass when he was anointed king. He was an insightful leader, lay man who had concern for the discipline of the Church and who had love for the Benedictine monastic life. He was a supporter of Cluny's reforms. It was through Saint Henry that the King of Hungary and later saint, Stephen, met Christ and was baptized.
Benedictine history tells us that he made a vow to the Abbot of Saint-Vanne in Verdun, thus, the tradition of Henry being an Oblate. (For more of what a Benedictine Oblate is,
read this post
).
Both he and his wife, Cunegunda were canonized by the Church and revered as saints.