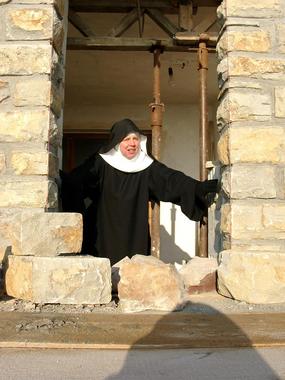 As we celebrate anew the Memorial of the Virgin Saint Scholastica, we pray, O Lord, that, following her example, we may serve you with pure love and happily receive what comes from loving you.
Scholastica according to the tradition of the Church, was the twin sister of Saint Benedict having been born in 480 in Nursia. As twins do, Saint Scholastica followed her sibling. One could say that poor Benedict couldn't dodge his sister but the love they had for one another was intense and natural that nothing else would suffice.
The Saint went to Monte Cassino (just south of Rome) known today as the Arch-Coenobium and died there in 547. Scholastica founded a monastery for women following the Rule compiled by her brother.
As the Mass collect above says, let's follow Scholastica's example of service of the Lord with a love that is pure and receive what the Lord gives happily.
Let us pray for the intentions of the Benedictine nuns in the USA, particularly nuns of the monasteries of Regina Laudis (Bethlehem, CT), the Glorious Cross (Branford, CT), St Emma (Pittsburgh, PA), St Walburga (Virginia Dale, CO), Immaculate Heart of Mary (Westfield, VT) and Our Lady of Ephesus (Kansas City, MO).