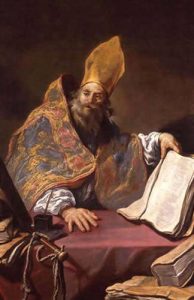 The famous Benedictine ascetic monk, bishop, cardinal, reformer and Doctor of the Church, St. Peter Damian (1007-1072), is honored today in the sacred Liturgy. He was noble-born in Ravenna, Italy, the youngest of a large family. His family was a bit dysfunctional and cruel to Peter; it is recorded that his mother refused to nurse him and a brother adopted him and neglected him treating him like a slave. One would wonder how Peter survived so well! It was a brother, a priest, who provided formation and an education. At 25 Peter was renowned for this theological reflection and ability in Canon Law. University work was not too attractive to him and he left public life to be a Benedictine monk taking up asceticism.
St. Peter Damian is known today more as a church reformer than anything else because of the controversies he was drawn into. Noteworthy are the reforms he advocated in the realm of ecclesiastical office and consecrated life.
Today, we need his strength and determination to follow Christ as closely as a possible, leaving aside ambition and power and fame. Quoting the Rule of Benedict, let us not "put nothing before Christ." Crucially, we need St Peter Damian's influence in the renewal of Benedictine life given that so many monasteries are dying.