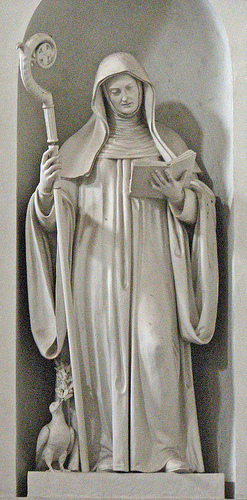 The Church uses biblical imagery to center our worship of the Blessed Trinity. On this feast of Saint Scholastica, virgin, the Church prays the Office and Mass of Virgins and a recurring theme is taken from Psalm 44, a nuptial hymn. There we meet Christ as the bridegroom and the Church, with Saint Scholastica as the model of bride. Baptized and adopted sons and daughters of God, we walk as brides to the altar of our salvation in the proclamation of the Word and Eucharist. As Scholastica is the virgin bride of Christ, we too enter into the mystery of our salvation as Christ's brides according to the grace given to us and are addressed as such by the sacred Liturgy of the Church.
Today the Church observes Saint Scholastica's liturgical memorial, the twin sister of the Patriarch of Western Monasticism, Saint Benedict. Not often can we say that in the canon of saints that one's twin is also enrolled. Tradition has her being born in Norcia c. 480 and dying in 543. The bodies of Saint Scholastica and Saint Benedict share a common tomb at Monte Cassino, a fitting place of rest for twins. Monte Cassino is a beautiful place of pilgrimage if you get a chance: I've done it twice.
Saint Scholastica is the patron saint against rain, storms, convulsive children, and nuns. And so, we ask Saint Scholastica to look after these things today. Of course, we in NY are engaged in a snow storm which I hope counts in the general idea of being against storms. Pray for us!
The 2009 post is noted
here
with the liturgical prayer for Saint Scholastica and a link to the Saint Gregory's
Dialogues
.