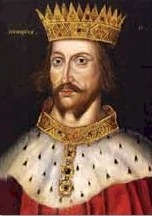 The feast of King Saint Henry (972-1024) always brings with it a keen remembrance of the commitment one makes as an Benedictine Oblate: seeking God unreservedly. The offering of oneself to God as a Benedictine oblate is a singular grace to take the gift of one's humanity seriously as God has given it with the express desire to totally adore Him who makes us.
As this German king and Holy Roman Emperor he knew that holiness was possible in everyday life. You might say he was a monk without the monastic enclosure to God's work in the every day.
Benedictine Father Mark Kirby speaks well of good King Saint Henry
here
.
Let's join with Saint Frances of Rome and Saint Henry in prayer for the grace of seeking God in all that we do, and in every place and time.