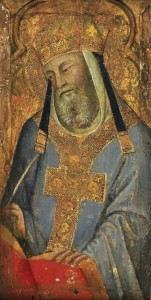 When the Church prays the Mass and the Divine Office today we'll ask God to hear in the "intercession of Pope Saint Gregory, [to] endow, we pray, with a spirit of wisdom those to whom you have given authority to govern, that the flourishing of a holy flock may become the eternal joy of the shepherds."
We rely on Saint Gregory's intercession in a big way today.
We are reminded by Pope Saint Gregory that "The only true riches are those that make us rich in virtue. Therefore, if you want to be rich, beloved, love true riches. If you aspire to the heights of real honor, strive to reach the kingdom of Heaven. If you value rank and renown, hasten to be enrolled in the heavenly court of the Angels."
Gregory (540 – 604) was born in Rome and was a civil servant, the usual path for a man of an aristocratic family; he became Rome's Prefect.
In time, Gregory became a monk and then he founded a monasteries in Rome and in Sicily. As a deacon he was sent as an envoy to Constantinople.
History tells us that Gregory was the first monk –likely to be living the Rule of Benedict– to be elected Pope. His papacy was reform-minded when it came to property, service, concern for the poor and marginalized, the Church's liturgical life, including sacred music. You can say that Gregory had a working relationship with people in tension with the Church, especially the Barbarians threatening the peace of peoples.
Beside his prodigious intellectual and social work, Gregory ought to be remembered in a significant way for setting the course of evangelizing the English peoples when he sent Augustine and his monks to England in 596.