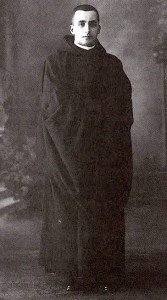 Bernardo Vaz Lobo Teixeira de Vasconcelos was a Benedictine monk, mystic, poet, and authored Cântico de Amor. Studied at the University of Coimbra and there was part of the Saint Vincent de Paul Society which did works of evangelization and charity especially with the poor. Likewise, he was devoted to regular eucharistic adoration. Professionally, he was an editor of the journal which studied democracy.
Bernardo was born in São Romão Corgo (Celorico de Basto), Portugal, on July 7, 1902.  He discerned a call to the monastic life and entered the Monastery of Singeverga on 16 August 1924 and professing vows in September 29, 1925. His name in religion was Brother Bernardo da Anunciada. The superior sent him to the Abbey of Mont-César in Beligium to study theology. He was back home in a year's time due a diagnosis of TB.
Bernardo illness weakened his body and yet he was peaceful and trusting in Divine Providence. The hundredfold was very present in Brother Bernardo's life. In a letter to a fellow patient Bernardo wrote:
"don't get delivered to sadness that only serves to disable our best energies … it expands your heart and let him the life-giving Sun of joy. Joy, but with so many ordeals? I'm telling you: who did you see still no cross? The cross follows us wherever we go and we have to take; and, if we don't want to raise our arms and generously to hugs, I mean: with all the ardor of our hearts-what do we have to take a challenge behind us, the drags."
Brother Bernardo died in the early hours of July 4, 1932, after a long suffering caused by TB. He is buried in the parish church of São Romão do Corgo
Brother Bernardo Vaz Lobo Teixeira de Vasconcelos is now honored with the title of Servant of God.
In all things may God be glorified.