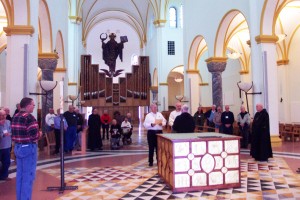 The charism (the gift given by the Holy Spirit) of Saint Benedict, a layman, who is known as the Father of Western Monasticism, was to provide the Church a method and ultimately a culture by which we all can meet the Triune God. The central aim of the Rule, however, is to encourage the adherent to focus attention on seeking God at all times and educate to maturity the person who desires to know and love the Lord in this life, and in life eternal. Benedict's holy Rule has been a source of inspiration, guidance, self-examination since the sixth century.
It is very true, Benedictine spirituality isn't just for monks. The laity since the beginning have oriented themselves to the life of a monastery while keeping their secular vocation intact. This vocation of the baptized person in the Catholic Church is fittingly explored in a church documentby John Paul II in Christifidelis laici, or more recently in an essay by Father Julián Carrón, "Life as Vocation" (you can select the text in various languages).
Among the many things that the laity have experienced and been educated to, are things like praying in common the Divine Office (the Liturgy of the Hours), the practice of lectio divina — or sacred reading of Scripture — a theology and practice of work, and a method for ongoing conversion to Jesus Christ. Like the monks and nuns, the lay person is given instruction in the Rule of St. Benedict, the guiding principle behind Benedictine life, but the lay person is given a way of thinking that is oriented to life precisely as a lay person. However, secular priests are also Oblates. A good example may be the steps of humility of chapter 7 of the Rule are lived differently by a lay person than by a monk or a nun without reducing the content.
There is more to being an Oblate that is beautiful and fitting for many people can be said at this moment. It is , indeed, a proposal that we ought to make to others because it is a source of inestimable graces. In a recent article on Benedictine Oblates connected with the Illinois monastic community of St Bede, opens a door, "'Monks Outside the Walls' Oblates bring monastic spirituality to secular life." In the article we learn that,
The interdenominational group [of oblates] boasts a membership of about 100 from across Central Illinois and the Chicago suburbs, with an average of 20 attending the meetings each month. The most recent numbers from the Vatican's website for International Benedictine Oblates from 2008 indicated there were 25,481 oblates in 50 countries, with 42 percent of those in the U.S., and the numbers are growing.