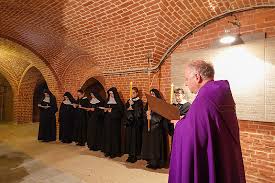 Benedictine All Souls
Surely you see the parallels with the established tradition of All Saints and All Souls in the Latin Church. Being that the Catholic Church is a communion of churches and traditions, there is a plethora of observances. The Benedictines, like other "major" religious orders have days to recall before their holy ones and their faithful departed (not just their dead).
Today is a good day to recall the eschatological hope that we profess to have (cf. the Creed) as faithful disciples of the Lord of Life.
We pray,
Almighty God, creator and redeemer of all the faithful, grant the souls of your departed followers of St Benedict forgiveness of all their sins… may they obtain the pardon that they have always desired.
Today, let's recall with certain docility the promise St Benedict presses into our hearts that together we come to eternal life in the Trinity (cfr. RB 72,11-12).
A previous post on the topic.