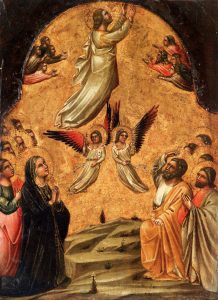 On … "reflection on the meaning of the Ascension is found in this phrase: Jesus took his place. After having undergone the humiliation of his passion and death, Jesus took his place at the right-hand of God; he took his place with his eternal Father. But he also entered heaven as our Head. Whereupon, in the expression of Leo the Great, the glory of the Head became the hope of the body. For all eternity Christ takes is place as the firstborn among many brethren: our nature is with God in Christ. And as man, the Lord Jesus lives for ever to intercede for us with Father. At the same time, from his throne of glory, Jesus sends out to the whole Church a message of hope and a call to holiness.
"Because of Christ's merits, because of his intercession with the Father, we are able to attain justice and holiness of life, in him. The Church may indeed experience difficulties, the Gospel may suffer setbacks, but because Jesus is at the right-hand of the Father the Church will never know defeat. Christ's victory is ours. The power of the glorified Christ, the beloved Son of the eternal Father, is superabundant, to sustain each of us and all of us in the fidelity of our dedication to God's Kingdom and in the generosity of our celibacy. The efficacy of Christ's Ascension touches all us in the concrete reality of our daily lives. Because of this mystery it is the vocation of the whole Church to wait in joyful hope for the coming of our Saviour, Jesus Christ.
"Dear sons, be imbued with the hope that is so much a part of the mystery of the Ascension of Jesus. Be deeply conscious of Christ's victory and triumph over sin and death. Realize that the strength of Chist is greater than our weakness, greater than the weakness of the whole world. Try to understand and share the joy that Mary experienced in knowing that her Son had taken his place with his Father, whom he loved infinitely. And renew your faith today in the promise of our Lord Jesus Christ, who has gone to prepare a place for us, so that he can come back again and take us to himself.
St John Paul, Ascension Thursday, 1979