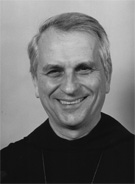 Abbot Vincent de Paul Bataille, emeritus abbot of
Marmion Abbey, was elected for six-year term by the capitulars of the 44th General Congregation Swiss American Congregationon Monday, August 8, 2011. As the new Abbot President he'll over see certain parts of the monastic life of little more than a dozen monasteries (see a previous blog post).
Abbot Vincent saw to the
renovation of Marmion Abbey, the building of the abbey church, and attracting
new vocations to the abbey, plus several additions to the academy. He earned the MA (Music) University of Notre Dame,
MEd from DePaul University,
Chicago. He taught Math and Language at Marmion Academy, and held the position
of Dean of Students at the Academy.
For a period of time he was appointed the Prior
of Priory of San José, Guatemala before being elected the 4th Abbot of Marmion Abbey
and President of Marmion Academy, Aurora, Illinois, in 1991. Until now he's been the Vocation
Director for Marmion Abbey, and a member of the Abbot President's Council,
Swiss-American Congregation.
May God grant Abbot Vincent the graces needed for certain and clear leadership.
Saint Benedict and Saint Scholastica, pray for us.
Blessed Columba Marmion, pray for us.