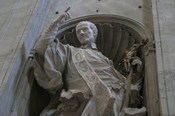 O glorious Saint Vincent
de Paul, the mention of your name suggests a litany of your virtues: humility,
zeal, mercy, and self-sacrifice. It also recalls your many foundations:
Works of Charity, Congregations, and Societies.
Inspire all charitable workers,
especially those who minister to both the spiritually and the materially poor.