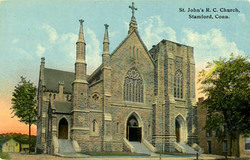 Word has been received that the Church of Saint John (Stamford, CT) has been given the high honor of being named a minor basilica by His Holiness, Pope Benedict XVI.
Henceforth, the parish will be known as The Basilica of Saint John the Evangelist.
The Catholic community has been present in the Stamford sine the early 18th century but an official ecclesial community was founded in 1847.
[…]