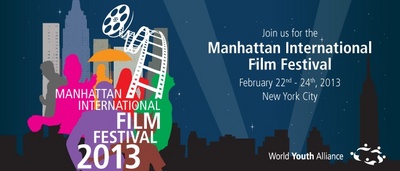 The World Youth Alliance will be hosting the Manhattan International Film Festival on Friday, February 22 – Sunday, February 24, 2013.
The WYA's Manhattan International Film Festival views short films by young directors from around the world, including Macedonia, Australia, Portugal, Italy, Philippines, Taiwan, Malaysia, and the United States.
The festival will feature presentations and screenings by renowned award-winning independent filmmaker, Jamil Dehlavi, and Director of Film and Animation at School of Visual Arts, Salvatore Petrosino.
All festival events are free admission and open to the public.
A complete schedule is now available online and can be viewed here.