On my mind and
in my heart I have been thinking a priest who died on 3 July at his own hand.
Father Paul Archambault, 42, priest of the Diocese of Springfield, MA, had his demons with which to struggle in this
life; his struggle is not unlike the rest of humanity, that is, a struggle to
live with great humanity tensions between grace and sin. I didn't know Father
Paul; I am nonetheless moved by his hasty act and struck by his death at this
young age, one that I share with him. Father Paul's desperate act of suicide is
bewildering and saddening. My reflections lead me to say that sometimes we are
consumed by sin (or some other weakness) and forget that there is Friendship
beyond all others really cares for us. Nevertheless, Christ is present to
sustain us when we can't remember that He's offered us the Hundredfold.
Father
John Lessard, former pastor of Our Lady of Guadalupe Parish in Holyoke and
friend of Father Paul, delivered the words noted below at the funeral at Saint
Elizabeth Ann Seton Parish in Northampton on July 12.
What is our response to
this tragic end of a priest? First, I would suggest that we beg the Holy Spirit
to preserve us from nihilistic temptations. Suicide is a mis-understood act
that many are tempted, even priests. In a week's time I know of one other
priest who attempted suicide and lived. And over the years, I have known four
priests to have committed suicide. Second, cast an eye of mercy on those who
struggle with the temptation to permanently end their pain and suffering. What
are the distinguishing characteristics of Christ's presence in these events?
Third, pray for priests. Fourth, be a good friend to others, particularly
priests.
Let us help each other see the Face of Christ. Let us also pray for
each other, and at this time all those who mourn Father Paul Archambault. Also, I would also caution against defining a person exclusively by some of his or her actions. We are more than one or two actions.
Here
are a few paragraphs. For the rest of Father Lessard's address, you may read it
here.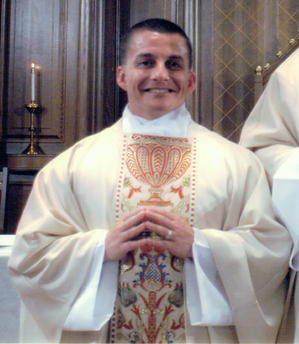 So, it is with the Sacrament of Holy Orders of the Priesthood. Grace. Not magic.
And a man who enters into this unique and tremendous Sacrament, much like
married people, does not become immune to anything but rather can count on his
troubles to increase as the evil enemy fights with all his might to take down a
priest. The Sacrament of Holy Orders does not prevent sickness or illness of
any kind, does not cure what was already there. And we must understand that
true sickness, whether it be of body or of mind is sickness; it is not
chosen. A couple of years ago, a dear friend was diagnosed with breast
cancer. Would it possibly ever cross one's mind to blame her for her cancer? Of
course not. If we are to love one another, care for and about one another as
Christ not only asked us to do but commanded us to do and tells us our
salvation rests largely upon fulfilling that command, we must put aside any and
all silliness and ignorance that prevent us from seeing illness for what it is,
no matter what that illness is. Would we blame a man with Parkinson's disease
for his chronic illness? Of course not. Do you blame the child who
develops leukemia? The thought is absurd and ludicrous, isn't it? And as
with cancer or any other malady of the body, so with illness of the mind
sometimes treatments cure, sometimes they are very successful for a number of
years, sometimes they are partly and briefly successful, sometimes they fail
outright.