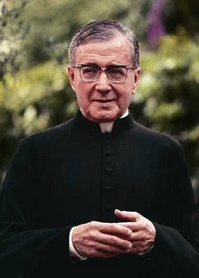 The Pope advocated knowing the lives of the saints as a way of coming to know Christ, and to know how to live one's baptism. This video of Saint Josemaría Escrivá gives an excellent introduction to the life of a 20th century saint and founder of the lay movement of Opus Dei.
Saint Josemaría's work was to make known that sanctification is open to all people. People can find God in their ordinary lives; deep spirituality can be found in the everyday activity, at work, in the family, the world. Secularity (not to be confused with secularism) showed the face of the living God. Living for God is what we are all called to, with absolutely no distinction. Holiness is not just for priests and nuns. At his canonization on October 6, 2002, Pope John Paul II called Escrivá the "saint of ordinary life."
Saint Josemaría's liturgical memorial is June 26.