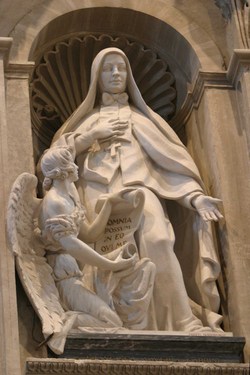 O Lord and Bridegroom of your Church,
We praise you for this virgin wise
Who, lighted lamp in hand, went forth
To preach her Groom and win his prize!
From early youth she heard your voice
And longed to work in Asian lands;
But "in the west you'll find your east,"
The pope said, firm in his commands.
So from her home, Francesca came
That she might care for those who left
Italian homes to seek for work,
But in the New World were bereft.
She founded schools and hospitals
And orphan homes, and traveled wide;
Despite ill health and stature small
Her works became our Church's pride.
She labored long with sisters brave,
And soon her congregation spread
From North to Southern hemisphere,
Although she sailed the seas with dread.
In labors long and hard, she worked
That Christ her Lord might be well served
In poor and sick and ignorant,
That they might feel God's love deserved.
O Trinity of love most great,
O Father, Son, and Spirit blest,
With Frances and with all your saints
Bring us, at length, to heaven's rest.
J. Michael Thompson
Copyright © 2009, World Library Publications
LM; DUKE STREET, ROCKINGHAM NEW, HAMBURG