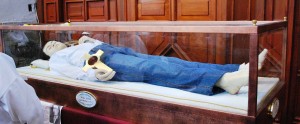 Besides being the beginning of Lent and the feast day of the great Saint Scholastica, twin sister of Saint Benedict, it is the feast day of the remarkable Blessed (soon-to-be Saint) José Sánchez del Río. The pious mantra that comes to mind is ¡VIVA CRISTO REY! when one thinks of this holy man. Recall the anti-Catholic government soldiers said:  "If you shout, 'Death to Christ the King', we will spare your life." His response: He only answered: "Long live Christ the King! Long live Our Lady of Guadalupe!"
At 13, José was the flag-bearer in the Cristero army fighting (fiercely fighting in mid-1920s) for the right to remain Catholic in the face of anti-religious government policies. Also serving the Cristero army were two older brothers, Macario and Miguel. Mexican government troops captured José and imprisoned, abused, mutilated, him having ordered the young man to reject Jesus Christ and His Church on this date in 1928. José refused and was given the martyr's crown. The details of his death are gruesome: he hacked with machetes, stabbed with bayonets and finally shot on 10 February 1928 in Sahuayo, Michoacán de Ocampo, Mexico.
The body of the saint is interred in the Church of the Sacred Heart of Jesus, Sahuaro, Mexico with a bone fragment relic enshrined in the church of the Immaculate Conception, Taft, Texas.
Barely seen in this image one sees Pope Benedict praying before the tomb of the Saint José Sánchez del Río when he visited Mexico. It was Benedict who declared him a martyr and who beatified José on November 20, 2005. Pope Francis will declare him a saint 2016.
May Saint José Sánchez del Río show us how to live the virtue of fortitude in the face of hardship.