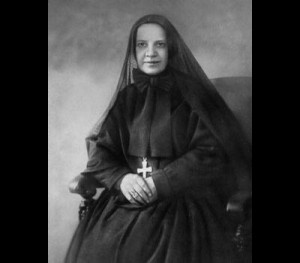 "In the face of the endless cares and anxieties of life, she never let anything turn her aside from striving and aiming to please God and to work for his glory for which nothing, aided by God's grace, seemed too laborious, or difficult, or beyond human strength." (Pope Pius XII)
From a family of 13 living in Lombardy, Italy, Frances was born of a pious family in 1850. Having tried her vocation in another congregation, she eventually founded the Missionary Sisters of the Sacred Heart in 1880. Pope Leo XIII gave his approval of the new group of sisters who hoped to go to the missions in China. Instead, Leo suggested to her that she go to the United States to help the Italian immigrants who were flooding to that nation in that era, mostly in great poverty. "Not to the East, but to the West" was his advice.
She said: "I will go anywhere and do anything in order to communicate the love of Jesus to those who do not know Him or have forgotten Him."
The Blessed Mother appeared to her in a dream, tending the sick. "I am doing the work you refuse to do," she told Frances. Columbus Hospital then was ' next effort. In twenty-eight years Frances founded 67 schools, orphanages, convents, and hosptials in the United States. Mother Frances died in 1917; Mother became a United States citizen and she was the first US citizen to be canonized.