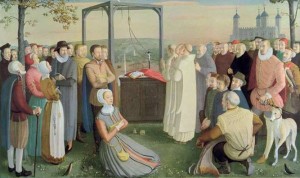 They liturgical calendar has the Church recognizes the 16th and 17th century Martyrs of England, Scotland, and Wales. The 85 are commemorated together in their historic English, Scottish and Welsh Catholic milieu who were martyred during the persecutions by Protestants. The martyrs were Beatified on this date in 1987 by Pope John Paul II. The names need to be read and remembered:
Blessed Alexander Blake
Blessed Alexander Crow
Blessed Antony Page
Blessed Arthur Bell
Blessed Charles Meehan
Blessed Christopher Robinson
Blessed Christopher Wharton
Blessed Edmund Duke
Blessed Edmund Sykes
Blessed Edward Bamber
Blessed Edward Burden
Blessed Edward Osbaldeston
Blessed Edward Thwing
Blessed Francis Ingleby
Blessed George Beesley
Blessed George Douglas
Blessed George Errington
Blessed George Haydock
Blessed George Nichols
Blessed Henry Heath
Blessed Henry Webley
Blessed Hugh Taylor
Blessed Humphrey Pritchard
Blessed John Adams
Blessed John Bretton
Blessed John Fingley
Blessed John Hambley
Blessed John Hogg
Blessed John Lowe
Blessed John Norton
Blessed John Sandys
Blessed John Sugar
Blessed John Talbot
Blessed John Thules
Blessed John Woodcock
Blessed Joseph Lambton
Blessed Marmaduke Bowes
Blessed Matthew Flathers
Blessed Montfort Scott
Blessed Nicholas Garlick
Blessed Nicholas Horner
Blessed Nicholas Postgate
Blessed Nicholas Woodfen
Blessed Peter Snow
Blessed Ralph Grimston
Blessed Richard Flower
Blessed Richard Hill
Blessed Richard Holiday
Blessed Richard Sergeant
Blessed Richard Simpson
Blessed Richard Yaxley
Blessed Robert Bickerdike
Blessed Robert Dibdale
Blessed Robert Drury
Blessed Robert Grissold
Blessed Robert Hardesty
Blessed Robert Ludlam
Blessed Robert Middleton
Blessed Robert Nutter
Blessed Robert Sutton
Blessed Robert Sutton
Blessed Robert Thorpe
Blessed Roger Cadwallador
Blessed Roger Filcock
Blessed Roger Wrenno
Blessed Stephen Rowsham
Blessed Thomas Atkinson
Blessed Thomas Belson
Blessed Thomas Bullaker
Blessed Thomas Hunt
Blessed Thomas Palaser
Blessed Thomas Pilcher
Blessed Thomas Pormort
Blessed Thomas Sprott
Blessed Thomas Watkinson
Blessed Thomas Whitaker
Blessed Thurstan Hunt
Blessed William Carter
Blessed William Davies
Blessed William Gibson
Blessed William Knight
Blessed William Lampley
Blessed William Pike
Blessed William Southerne
Blessed William Spenser
Blessed William Thomson.