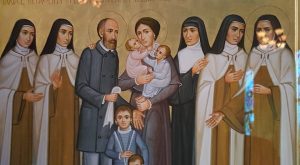 We liturgically remember Saints Louis and Zélia Martin, the married couple whose human love cooperated with Divine Grace which generated the beauty of the Little Flower.
As with all holy men and women, saints, they had a lived in a recognition –continual– that God is all and the desire to give all. From this recognition, 5 daughters entered consecrated life; 4 in Carmel and one in the Order of the Visitation.
Pope Francis acknowledged that the Church wants and needs married couples who point to Christ and so canonized Louis and Zélia during the Synod on the Family on 18 October  2015; becoming the first spouses in the church's history to be canonized as a couple.
The choice of a liturgical memorial on 12 July marks the date of their matrimony in 1858.
May Saints Louis and Zélia help us to integrate our faith in every aspect of family life remembering that the married vocation is to help each other become saints.