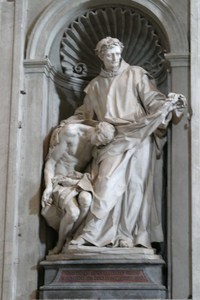 Father, You gave John of God love and compassion for others. Grant that by doing good for others we may be counted among the saints in Your kingdom.
Saint John of God made his conversion at the age of 40 (there's hope for those of us who are older) and is famously known for founding a group of brothers whose work is to serve the sick and the dying, especially the homeless and those on the margins of society. The order is known as the
Brothers Hospitallers of Saint John of God
. A statue of St John of God is positioned among the great founders of religious orders at Saint Peter's Basilica, Rome.
Saint John of God is the patron saint for heart patients, hospitals, nurses, firefighters, printers and booksellers.