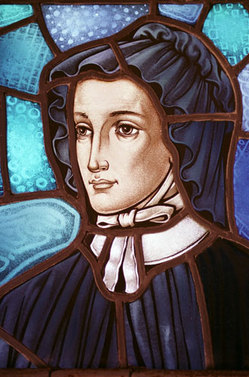 Lord Jesus, Who was born for us in a stable, lived for us a life of pain and sorrow, and died for us upon a cross; say for us in the hour of death, Father, forgive, and to Your Mother, Behold your child. Say to us, This day you shall be with Me in paradise. Dear Savior, leave us not, forsake us not. We thirst for You, Fountain of Living Water. Our days pass quickly along, soon all will be consummated for us. To Your hands we commend our spirits, now and forever. Amen. (a prayer by Saint Elizabeth Seton)
Saint Elizabeth Ann Seton (1774-1821), a native of New
York was socialite, a wife, a mother, a convert to Catholicism and a foundress
of a religious community of women. Seton is the first native-born American
citizen to be canonized. She founded the Society for the Relief of Poor Widows
With Small Children, New York City's first private charitable organization, and
founded the U.S. Sisters of Charity. Seton was responsible for the parochial
school system in the USA.
A video was made of Seton and you can watch the trailer here.
Even more on Saint Elizabeth Ann Seton may be

found here

,
including the liturgical prayer for her.