March 19 is the solemnity of the Saint Joseph, husband of Blessed Virgin Mary. Time has gotten away from me and I am only now able to post a set of novena prayers to Saint Joseph. This solemn feast is a special feast and one that should not get away from us because of Saint Joseph's special care for the Church and personally for each one of us. While the days prior to the feast won't constitute nine days of prayer, perhaps this year we could begin the novena on the feast itself and next year start on March 10. These prayers were sent to me a kind Canadian reader of the Communio blog.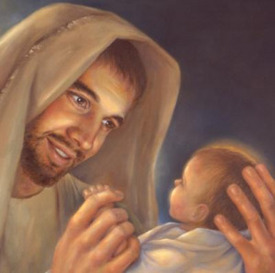 The daily novena prayer Saint Joseph
Remember, most
pure spouse of Mary, ever Virgin, my loving protector, Saint Joseph, that no
one ever had recourse to your protection or asked for your aid without
obtaining relief. Confiding, therefore, in your goodness, I come before you and
humbly implore you. Despise not my petitions, foster-father of the Redeemer,
but graciously receive them. Amen
Day 1
O Saint
Joseph, Pillar of Families! Foster Father of Jesus, protect our families from
the sufferings of separation and divorce. Be a lighthouse for fathers and
father-figures alike, so that they may lead virtuous lives and be good role models
to our children. Amen.
Our Father, Hail Mary, Glory Be [these three prayers are to be said each day after the novena prayer]
Day 2
O Saint Joseph, Guardian of Virgins! Loving, chaste
spouse of our Blessed Mother, protect the chastity of marriages so that our
children may grow up in strong united families. We also ask you to protect the virginity
of the youth so that they may be spared from unnecessary sufferings, and to
help those living the consecrated life to be ever more faithful to their
vocations. Amen.
Day 3
O Saint Joseph, Patron of the Unborn! Your faith was necessary
to bring about the glory of the incarnation. Teach us all to have unbending confidence
in the promises of Christ. May we submit ourselves wholeheartedly to His will
and trust that His providence will see us through in difficult moments. Amen.
Day 4
O
Saint Joseph, Terror of Demons! Help us defeat our untamed passions, imaginations
and memories. Teach us to listen to the voice of our Father in the silence of
our hearts, and give us the strength to have dominion over our senses. In times
of weakness, may we closely depend on our intellect and will, and most importantly
the graces generously given to us through prayer by our Lord Jesus Christ.
Amen.
Day 5
O Saint Joseph, Hope of the sick and the dying. Heal us from our bodily ills,
emotional troubles and worldly fears. Be with us in times of frailty, and
comfort us with hope in eternal life. May our hearts be anchored in Jesus every
day of our lives and may we never be separated from him. Amen.
Day 6
O Saint Joseph,
Patron of the Church! Protect the intentions of our Holy Father Pope Benedict
XVI, our Cardinals, Bishops, priests and all religious who work faithfully to
shepherd the people. Keep them away from temptation, and deliver them from all
unholy and corrupting influences. May our Church remain free from all contagion
of error and be constantly reinvigorated by the Holy Spirit. Amen.
Day 7
O Saint
Joseph, Patron of Workers! Comfort us during the desolation of unemployment,
and bring compassion into our hearts during times of prosperity. Teach us the
right paths and the right words, so that we may be able to meet our temporal
needs. We also ask that you keep our hearts aflame with the Word of God, that
we may always be conscious that our need for daily bread is not restricted to
bread alone, but Jesus in the Eucharist. Amen.
Day 8
O Saint Joseph, Lover of
Poverty! Solace of the wretched! Be our friend in time of suffering, and help
us appreciate the virtues we can harvest through struggle and sacrifice. Keep
us away from the snares of pride and self-importance. Let us remember the
poverty of our Lord so that we can dutifully imitate his life in humility and
obedience. Amen.
Day 9
O Saint Joseph, humble, poor, and obedient servant of the God
the Father! We praise you participation in the glory of the Incarnation, as faster
father of Jesus Christ and most chaste spouse of the Blessed Virgin Mary. Keep
us all close to your heart, and may the faithful works of Blessed Brother André
continue to bring glory to God for years to come. May all those who seek your
intercession and his be met with expedient relief or consolation. Amen.