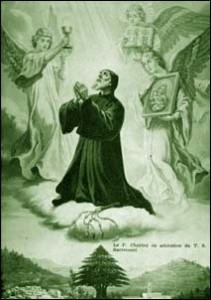 The mountain heights of Lebanon
Resound with songs of joy;
The cedars of that ancient land
Stand tall as we employ
Our hymns of praise and thankfulness
For Sharbel's saintly ways,
Lived out in strict humility
That guided all his days.
True monk and hermit of the hills,
Saint Maron's modest son
Scorned wealth and comfort in his life
That heaven's crown be won.
Of Mary, heaven's Queen and Gate,
Devoted son was he,
Who cherished all the ancient rites
With great humility.
Fierce lover of the lowly life,
True father of the poor,
As you have done, so help us all
To struggle and endure,
That Christ be praised in ev'ry life,
That riches not ensnare
Or rule us in our daily walk;
That strong may be our prayer!
O Father, Son, and Spirit blest,
One God in persons three,
Receive this hymn we offer now,
And keep your Church e'er free
To follow, as Saint Sharbel did,
Enflamed with love so bright
That we, with eyes fixed firm on Christ,
May vanquish sin's dark night.
J. Michael Thompson
Copyright © 2009, World Library Publications
CMD; FOREST GREEN, RESIGNATION