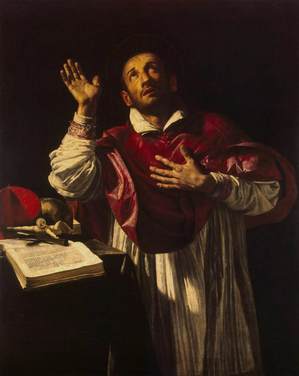 Saint Charles Borromeo's intercession is as much needed today as ever we needed it. He was an unexpected gift of God to his family and to the Church and we ask him to intercede for us. Some interesting points about the legacy of Saint Charles Borromeo, whose feast we celebrate today.
His nephew,
Federico Borromeo (1564-1631), was archbishop of Milan from 1595 and,
furthering Charles' support for Catholic learning, in 1609 founded the
Ambrosian Library in that city. He donated a tremendous collection of art and
literature to the library.
Borromeo's emblem is the Latin
word humilitas (humility), which is a portion of the Borromeo shield.
He is usually represented in art in his robes, barefoot, carrying the cross as archbishop; a rope round his neck, one hand raised in blessing, thus recalling his
work during the plague.
Borromeo is one of only four people mentioned at the
beginning of the Catechism of the Catholic Church, citing them as responsible
for the Council of Trent, which gave way to the modern day catechism. The
others mentioned are St. Peter Canisius, St. Turibius of Mongrovejo and St.
Robert Bellarmine.
The city and county of St. Charles, Missouri are named for
Borromeo.