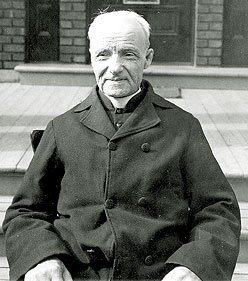 When I was a high school student at Notre Dame High School in West Haven, CT, I learned about Brother André but sadly the Brothers of Holy Cross didn't make too much of Brother André. I thought this was weird. The only saint candidate among the Brothers of Holy Cross and nothing much said to the students, faculty, alumni or benefactors. Really, knowing Brother André's story is to be filled with gratitude for the witness to simple, deep faith, the tenacity of his devotion and his virtue in the face of disappointment. Mind you, it is reported that he had a cold personality. A friend in Canada emailed me to tell me that Blessed André's cause for canonization is closer, elevation to the altars for God's praise and glory.
Brother André was born Alfred Bessette in 1845, the eighth of 12 children in a family in the farming village of St. Grégoire, 40 about miles southeast of Montreal. When Brother André died in January 1937, more than one million people filed past his coffin. It is estimated that ten million people have signed the petition calling for his sainthood and petitioning God to make desire possible.
About two weeks ago the Theological Commission for the Causes of Saints unanimously accepted the healing intercession of Blessed Brother André, the pious porter at the Collège Notre Dame; he later established Saint Joseph's Oratory and is credited with healing the sick, the lame and the blind. A commission of cardinals and bishops will now the Theological Commission's report on Brother André before recommending the cause for canonization to Pope Benedict XVI.
Blessed André is the latest Canadian to be studied for sainthood. If he's canonized he'll join a short of others. Besides the Northern American Martyrs, there's Saint Marguerite Bourgeoys and Saint Marie Marguerite d'Youville. There are 15 Blesseds waiting for their causes to be advanced.